Team Up With the Next Generation of Champions for the Performing Arts
Next Generation UPAF, presented by Johnson Controls, is a group of young leaders who are dedicated to making our community a better place to live, work and play. Membership is open to donors in their 20s, 30s and 40s with a gift of $350 or more.
Next Generation UPAF Member Benefits
Shape exciting and interactive arts events with a gift to Next Generation UPAF.  A portion of each gift is dedicated to Resonate, a Next Generation UPAF member-directed program supporting innovative UPAF Member projects aimed at drawing new audiences to the arts.
Invitations to exclusive events, like Next Gen Night out – featuring Resonate events, discounted Member performances and networking receptions.
Volunteer leadership opportunities with UPAF & UPAF Members.
With a gift of $1,200 or more, you may also designate a portion of your gift to one of UPAF's Community Impact Programs — UPAF Bright Minds, UPAF Connect or Kasey's Fund.
​​​​​
Membership in Next Generation UPAF provides you exclusive ticket offers, one-on-one networking and volunteer leadership opportunities.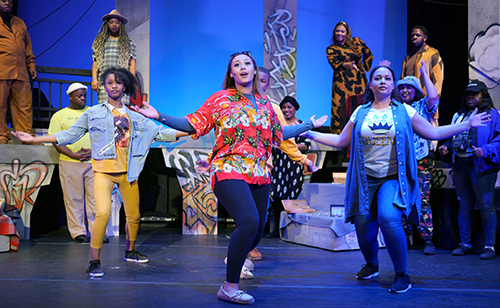 I joined Next Gen as I was interested in helping to introduce a younger crowd to the incredible performing arts scene in Milwaukee. To me, this included both philanthropy and performance attendance. After joining Next Gen, I was also able to sit on the Affiliate Grant Review Panel, which is responsible for allocating dollars to performing arts organizations that serve a need in our community, such as Latino Arts or Black Arts MKE. This has been a great experience and helped to educate me on the many programs available in our community thanks to UPAF.
Becca Schlagenhauf-Stull
Council Member, Next Generation UPAF
---
Leadership Panels and Speaker Events
Next Generation UPAF members receive invitations to various leadership events featuring area CEOs and dynamic panel discussions.
Past speakers include Greg Marcus of Marcus Corporation, Steve Booth of Baird and Cecelia Gore of the Milwaukee Brewers Foundation.
Next Gen Nights Out
Next Gen Nights Out are the best way to pack more performing arts into your life! These events include a ticket to a show and an invite to an exclusive preshow reception.
---
Next Generation UPAF Council Members — 2023
Lindsey Ashenden, ManpowerGroup
Christine Dunbeck, Minlopro Partners
Margaret Edmunds, Baird
Caryn Esten, Froedtert Health
Joseph Fadness, Michael Best Strategies
Karen Gamroth, Marcus Corporation
Mike King, Zilber, Ltd.
Natalie LaCrosse, Clarios
Erica Lythjohan, BMO Harris Bank
Becca Schlagenhauf, Northwestern Mutual Capital
Emily Shircel, Quarles & Brady LLP
Kaitlin Vaughn, Quad
Craig Williams, We Energies
Zachary Wolff, Associated Bank