When you get involved with UPAF, you're part of a community that sustains our region's exceptional performing arts organizations and talented local artists.
Because of your support, Southeastern Wisconsin's world-class performing arts groups and artists can continue to entertain as well as offer unique educational opportunities and accessible performances. Their work inspires hope, improving life outcomes for people regardless of socioeconomic status.
UPAF can only support our world-class artists and groups because of the generous financial support of people like you! There are additional ways to get involved too! Join one of our affinity groups, Next Generation UPAF, presented by Johnson Controls or UPAF Notable Women, presented by BMO. Sponsor an event or program. Volunteer with UPAF or a Performing Arts Member.
Ways to Give:
Donate online (Make a one-time gift or become a sustaining monthly donor)
Mail a check to UPAF at 301 W. Wisconsin Ave, Ste. 600, Milwaukee, WI 53203
Call 414-273-UPAF (8723) to pay or pledge over the phone, or for information about stock donations
Give through your UPAF Workplace Giving Campaign (or start one if your organization does not have one)
Give a legacy gift. Learn more about Planned Giving through your estate.
Your contribution makes our community better!
Make your gift go further
Click here to check if your employer offers a matching gift program.
Benefits of Giving
When you donate to UPAF as an individual or with a company gift, you're eligible for valuable donor benefits.
One of the Many Individual Donor Benefits Is the UPAF SMART CARD
With an individual gift to UPAF of $150 or more you receive the UPAF SMART CARD, sponsored by Associated Bank, which gives you one "buy one get one free" ticket offer at each of the 14 UPAF Performing Arts Members.
The UPAF SMART CARD also includes discounts at many of our area's popular restaurants for the perfect night out — dinner and a show!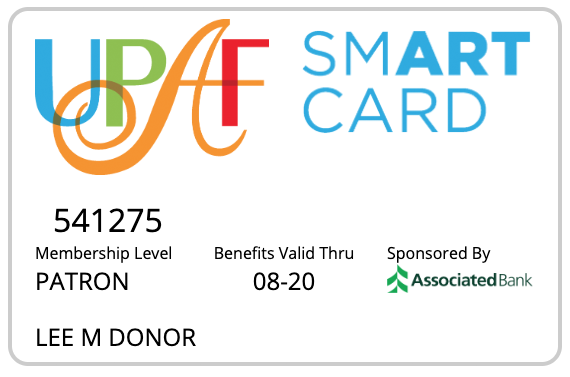 All Donors Receive:
UPAF's Arts Beat email newsletter, which is packed with performance highlights, ticket giveaways and UPAF updates